Kenny i, DJ/Violinist – Ceremony and Reception
Susan Elsayed, Violinist – Ceremony Music
YOUR RECEPTION (Cocktails and Dinner/Dancing)
DJ or Band – What's is your preference?
Kenny and our other DJs are professional Masters of Ceremony and bring years of experience to insure your wedding music follows your taste and flows perfectly. We're dedicated to planning your music with you because we want you to be delighted and have the best party of your life!
The Kenny i Band
Make your wedding unforgettable with the Kenny i Band! We'll help you plan a musical event that includes something special for every guest. Performing at weddings in Philadelphia, Atlantic City and the surrounding tri-state area for over 30 years, Kenny takes great pride in tailoring the band's performance to your musical tastes and preferences. Live music choices include but are not limited to Pop/Club Music, Rock, R& B, Classical, Jazz, Latin, and Country.
A TYPICAL RECEPTION: 
COCKTAILS (1 Hour) DINNER AND DANCING (4 Hours)
Your Cocktail Hour can simply be a Playlist from the I-pad, or Kenny can perform on the Electric Violin with accompaniment tracks and offers a discount when you book the Ceremony with him. Our DJs will play background music from a playlist suited to your style of music.  If you prefer a String Trio, Pianist, or other Small Ensembles, we can fill that need too!
DJs
Yes, Kenny i is a DJ too! And you get the added bonus of a Strolling Violinist during the Entree playing your guest requests at every table! Fantastic! We prefer to bring in another DJ to MC the party while the other DJ is queuing up the tunes!
Band
If you prefer a high energy Dance Band and are ready to make your wedding day the best day of your life, The Kenny i Band is YOUR band! Band size range from 6 piece to 9 piece. Kenny will Stroll with his Violin at Entree, too!
---
Take Advantage of our WEDDING PACKAGES – Call for details!
We also offer:
Photo Booths
Open air photo booth with unlimited photos, attendant, props, scrapbook of all photos taken with flash drive!
Visit our photo booth page !
Uplighting  – Dance Floor Lighting – Monogram Lighting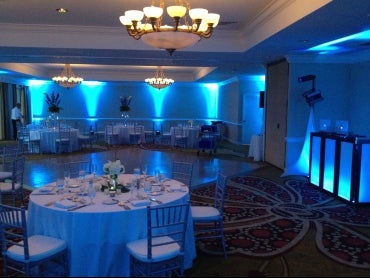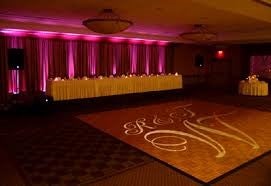 Uplighting is the hottest trend for weddings and special events to set the mood or transform a venue. "Uplights" are small lighting units that are placed on the floor around the perimeter of your venue. The lights will illuminate the walls from floor to ceiling with colored light. We can also do dance floor illumination. 

---
For more information on any of our services, Call us at (609) 927-3737 to request a free estimate!
Why Hire Us?
Over 30 Years of Experience
Top Quality Entertainers and Professionals
Award Winning Customer Service
Outstanding Reputation
Family Owned & Operated