Meet the Bands
The Kenny i Band
Talented Musicians in Atlantic City, Philadelphia, and Surrounding Areas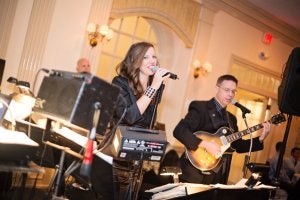 "Kenny i" The Music Man of Atlantic City: Kenny received his education from Baldwin-Wallace Conservatory of Music, Ohio and performed with Frank Sinatra, Natalie Cole, Mel Torme, Paul Williams, Marilyn McCoo, Robert Goulet, Doc Severinson, Jerry Lewis. Following his education in classical and jazz performance, Kenny spent years performing with and learning from some of the greatest musical artists of all time. In 1983, he took over the spotlight when he formed his own band. Kenny is a rare musician who combines technique, versatility, and personality, he is a showman, an Emcee, and the life of any party. A consummate professional, Kenny always has the "pulse of the room," and tailors his performances to reach every member of his audience.
Marie McMenamy- Vocals: Marie attended The College of New Jersey, Vocal Music and performed with Jubilate Deo Chorale and Orchestra. Her shows include Carousel, Pippin, Boys from Syracuse, Pirates of Penzance, and others. As Kenny i's daughter, Marie McMenamy has been involved in music her entire life. A Magna Cum Laude graduate of The College of New Jersey's vocal program, Marie covers every style of music: from pop and rock, to classical and jazz. From Carnegie Hall in New York to The Kimmel Center in Philadelphia to the Taj Mahal in Atlantic City, Marie has thrilled audiences with the beauty of her voice and her dynamic stage presence. Marie is also a business owner and Lead Entertainer of a popular and well respected Character Entertainment Group based in the LBI area (NJ) known as "Layla Marie Princess Playtime." This group performs every weekend in southern and central NJ for private and corporate events.
Matt Newsome- Vocals: Matt has been performing for over 20 years, wowing audiences all over the world with his amazing voice and talent! Matt's vocal career kicked off when he served in the USAF and performed as a lead vocal performer for the USAF Entertainment Showcase Group that performed for thousands of troops stationed overseas. Matt's voice and talent brought joy and amazing entertainment to our military men and women serving and protecting our country overseas. After returning from Europe, Matt started session recording with some of major companies Electra, Sonet & Island records, in addition to singing back-up vocals for head-liners Melba Moore, Denise Williams & Christopher, and performing as the opening act for Glenn Jones. More recently, Matt travels and performs full time with the Kenny i Band and several bands in the Atlantic City area.
Faith Williams- Vocals: Faith is currently a studio recording artist/song writer at AnnMichal Productions and is the newest member of the Kenny i Entertainment Company. Faith has the combination of talent, youth, and beauty. Audiences are mesmerized when they see her and hear her sultry style of singing as she brings an energy to all of the newest pop, hip-hop, and club tunes. She has performed countless events throughout every major venue and casino resort from Atlantic City to Philadelphia. In addition to writing and producing original songs, and co-producing a new rock musical, she devotes her time to modeling and loves singing with The Kenny i Band.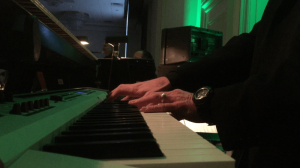 Chuck Butler- Keyboard/ Guitar: Chuck attended Berklee College of Music, Boston and performed with Aretha Franklin, Michael Crawford, Martin Short, Jerry Vale, Regis Philbin, Michael Amante, Shirley Bassey, and James Darren. Chuck began performing professionally at age 12. He is accomplished in every major musical genre, from classical to the latest contemporary styles. He is also a prolific commercial composer—if you've been near a TV or radio in the past 20 years you've probably heard some of his music. In addition to his performing schedule, Chuck is a full-time composer, serves as President of the American Composers Forum in Philadelphia, and teaches at Philadelphia's University of the Arts.
Jeffrey Wallis VonStenz- Trumpet: Jeff has completed his Graduate studies at Villanova University of the Arts with his Masters of Science Degree. He studied trumpet with world-renowned brass specialist Dr. Donald S. Reinhardt and has performed shows from NY to Philly to Atlantic City. He is currently recording the soon to be released new CD- Gringo Loco. His stage presence always brings the party to life, with his phenomenal trumpeting and interaction with the audience. Our party guests love Jeff's enthusiasm as he performs and choreographs every song!
Skip Spratt- Sax: Skip Spratt, originally from the Boston area, has been teaching and performing in the Philadelphia/Atlantic City area since 1985. After attending Berklee College of Music in Boston, he spent three years as a Saxophonist touring throughout the United States, Canada, and Puerto Rico. Since settling in New Jersey, Skip has performed with Natalie Cole, Tony Bennett, Johnny Mathis, Aretha Franklin, Marie Osmond, Donna Summer, Frank Sinatra Jr., Bobby Caldwell, The Temptations, Jeffrey Osborne, Tommy Tune, Ben Vereen, Joel Gray, Maureen McGovern with the Ocean City Pops, The 5th Dimension, as well as many others. While still in college Skip was a featured soloist in performance with jazz greats Randy Brecker, Bill Watrous, and John Faddis. In 1990, he had the honor of performing for First Lady Barbara Bush and the US Senators wives in the Senate Caucus Room in Washington, DC. In addition to playing on many independent projects Skip has done jingles for KYW Radio, WPVI Channel 6, Bally's Park Place, and most recently Jefferson Navy Yard. His television performances include appearances on Merv Griffin's New Years Eve Show with Aretha Franklin, The Allen Thick Show in Montreal, Canada; The Iris Chacon Show in San Juan, Puerto Rico, and The Variety Club Telethon in Philadelphia. Skip has published over 15 artist interviews in Saxophone journal, as well as more than 10 educational masterclasses on CD for Dorn Publications. Currently Skip is a contributing writer for Saxophone Today Magazine where he writes a column and play-along duet for each issue. His jazz duet book is also available through Saxophone Today. Lastly, Skip is the creator of the website SaxShed.com which provides service to saxophonists worldwide. Skip Spratt is the instrumental music teacher at Berlin Community School, Director of its award-winning Jazz Ensemble, and Past Secretary of the former NJ-IAJE (International Association of Jazz Educators). He has conducted the NAJE Jr. High Jazz Ensembles in 1996, 1999 and 2011. In addition to public education, Skip has taught saxophone at Rowan University and Woodwind Methods at the University of the Arts. He holds a (BM) with honors in Jazz Saxophone and an (MAT) in Music Education from The University of the Arts. Skip resides in New Jersey, where he maintains a private studio teaching Saxophone, Flute, and Clarinet. Skip Spratt is available for live performances and recordings, clinics, Skype lessons, or lessons in person.
Rich Kurtz- Bass: Rich attended the New England Conservatory in Boston and has performed with Ray Charles, George Benson, Luciano Pavarotti, and Shirley Bassey. Rich Kurtz is one of the most experienced bassists working today, with thousands of live, recorded and televised appearances under his belt. As an award-winning composer, producer, and engineer, he brings a wealth of musical knowledge to any bandstand. Rich has appeared with groups of all sizes, including symphony orchestras, jazz, rock, and country bands. No matter what kind of music Rich is playing, his love of music and dedication to his craft is always apparent.
Dave Palamar- Drums: Dave was part of The United States Air Force and performed with Sarah Vaughn, Joe Williams, Ray Charles, Clint Holmes, Nancy Wilson, Oliver Nelson, and many others. At the age of 17, Dave Palamar was accepted into the "Airmen of Note," one of the most prestigious musical organizations in the world. As a member of the USAF's jazz ensemble, he performed with many of the top names in music. The "Airmen of Note" were featured guests on The Tonight Show starring Johnny Carson.
Cheers the Band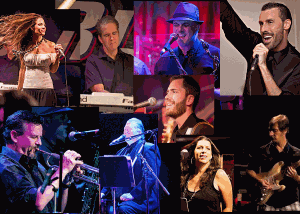 Don Kreutzer – Bandleader, trumpet, vocals. Don started Cheers the Band over 30 years ago and is still going strong! He has surrounded himself with the best musicians and vocalists in the area to comprise one of the areas hottest dance bands. He has performed with major acts throughout the East Coast and performed hundreds of Corporate events, Night Clubs, and weddings. Don is a true expert in his field. Cheers has played nationwide, and is proud to have opened for Jay Leno, David Brenner, the Trammps, Sister Sledge, Frankie Avalon, Debbie Gibson, and Gloria Estefan & the Miami Sound Machine.
This Atlantic City-based act is acknowledged to be of the highest profile among bands and orchestras in the Delaware Valley. Cheers has had the honor of being asked to perform for a Presidential inaugural ('97), the Republican National Convention ('00), the Governor's Ball (NJ – twice, DE), Miss America Pageant (multiple times), the FTD National Convention, the ACN National Convention, the MCI National Convention, QuadGraphics, NECA, Utility & Transportation Authority, HBO, Governors Conference, USA Today's and ESPN's No.1 High School Basketball Tournament and many others.
Cheers personnel are: Matthew Flynn- Lead Vocals, Jaimee Hammer – Lead Vocals, Trish Cleveland – Lead Vocals, Don Gallo – Sax, Flute Vocals, Chris Hyland – Keyboards, Vocals, Joe Parker – Drums, Vocals, Brad Mills- Lead Guitar, Matt Skversky – Bass Guitar.
If you would like to learn more about our bands please call us today at (609) 927-3737.